Our customers demand results and we provide them.

That was true sixty years ago and remains true.

Today, our continuous adjustment to change is as important to our customers' success as the quality of our California raisins.

Chooljian Brothers Packing Company operates successfully within the California raisin industry because we have developed management practices and production standards that exceed the norm.

When our customers need a change of product or service, Chooljian Brothers Packing Company always acts decisively on their behalf.

By linking our organizational structures at critical points in the manufacturing, business and transportation process, we help our customers deal with their raisin acquisition in a modern, business-like manner.

Our customers -- food producers, processors and their staffs -- enthusiastically participate in the proven approach to teamwork we use at Chooljian Brothers Packing.
'Operational excellence' describes our strategic approach to the processing, production, service and delivery of our products from Chooljian Brothers Packing Company.
We work closely with our customers to deliver value-added, competitively priced California raisins conveniently into their production process. We continually adjust our process and adapt our services to meet the increasingly refined requirements placed on our customers by the marketplace.
Since 1948, we have understood and operate on the principle that there is a difference between profit or loss on a single transaction and profit over the lifetime of our relationship with a customer. Chooljian Brothers Packing Company has developed systems to deliver extraordinary product with incredible consistency.
At Chooljian Brothers Packing Company, we have invested in the technical research, organizational skill and manufacturing equipment to be real partners who actively work with our customers.
No one is better than Chooljian Brothers Packing Company at the consistent delivery of quality California raisins into a system with stringent time lines and unforgiving specifications.


We now have the latest laser sorting, x-ray and metal detection technologies in our 100% stainless steel processing facility.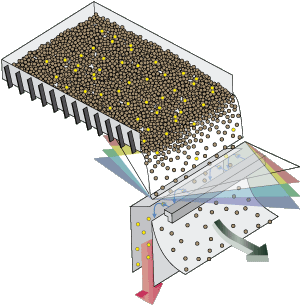 Our quality can only be outdone by our service.
---
3192 S. Indianola Avenue , P.O. Box 395 , Sanger, California 93657 , Phone: 559-875-5501, Facsimile: 559-875-1582